Scouting is a uniformed organisation. All members – Beavers, Cubs, Scouts, Leaders, Section Assistants – wear uniform for all Scouting events. What is actually worn will depend on the activity being done and will always be what is appropriate and practical for the occasion – Leaders-in-Charge of activities will specify what is to be worn.
Beavers wear an official blue sweatshirt.
Cubs wear an official green sweatshirt.
Scouts wear an official sea scout jersey.
Adults wear a blue long-sleeved shirt or blouse.
All members wear navy blue trousers or skirts. Official activity trousers are available from Scout Shops, similar trousers from other shops are acceptable. For Scouts and leaders, a leather Scout belt and buckle is worn.
Badges that all members wear are: on right sleeve immediately below the Scout logo, a 8th Worthing name tape and District (Worthing) and County (West Sussex) badges and, on the left breast pocket, the Membership badge. Everyone wears a 8th Worthing scarf (red) with a woggle (coloured to identify Six or Lodge, for Cubs and Beavers; leather for adults.)
Badges, scarves and woggles are provided by the Group.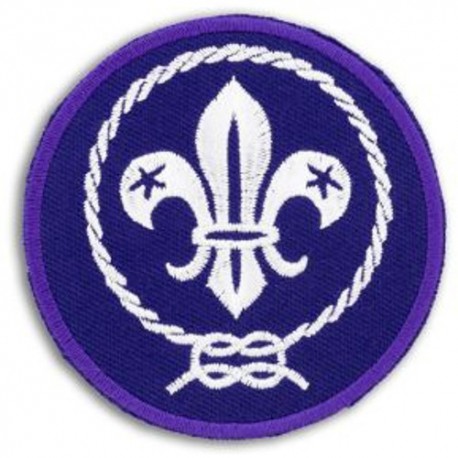 Above: The Membership Badge, worn by all Scouts
Apart from what is listed above, we wear no other uniform – we do not wear hats. Please do not buy anything else for your son or daughter.
Uniform can be purchased online from Scout Store – the official supplier or from One-Stop Scouting.
Alternatively you may prefer to buy from one of these local shops;
Worthing District Scout Shop (if you buy from here we get a commission)
Group Polo Shirts are not official uniform, but may be worn for informal activities if the leader-in-charge advises you in advance. They are a comfortable alternative to uniform when appropriate, particularly for outdoor summer activities.
Group Polo Shirts are available in children's sizes for ages 5-6, 7-8, 9-10, 11-13 and in adult's sizes S, M, L, XL, XXL and XXXL at £8.00 each.
Scout (Red) Hoodies are not official uniform, but may be worn by Scouts (not Beavers and Cubs) for informal activities at the discretion of the Scout Leaders.
Hoodies are available in chest sizes 32″, 36″, 38″, 40″, 44″, 46″ at £15.00 each.
To buy used uniform, Group Polo shirts or Scout Hoodies, please click on this link: Shop